Say Goodbye to Workplace Distractions
---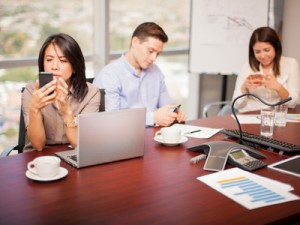 Four ways to reclaim your schedule so you can get more done.
Workplace distractions happen to us all, but Edward G. Brown provides the following tips to become the master of your time:
1. Track interruptions. Keep track of the number of interruptions you face and how much time you've lost.
2. Just say "no." Rather than telling your co-worker you are busy, respond by saying you'll be happy to help later. You aren't really saying "no" – you are saying "not now."
3. Protect your key projects and time. It's important to identify and carve out time for the small number of very important projects. The more you begin allocating and tracking your time, the more accurate you will become in estimating how long you will need to complete future projects. 
4. Make it a weekly ritual, and make it stick. One of the best ways to help build your new habit is by scheduling your week, enabling you to eliminate crises and stress associated from distractions and procrastination.
The bottom line: In order to get a handle on how you spend your time, assess how much time you waste, prioritize tasks and put your plan in writing. You'll begin to regain control, and you may even end up with extra time in your day.