Do you ever feel as though your life is out of control?
---
Do you ever feel as though your life is out of control?
As if you're riding a very fast merry-go-round and can't get off? When you have an important decision to make, do you feel pressed to decide even though you haven't had sufficient time to give it proper consideration? You may be suffering from what I experienced in my early life—the toxic combination of fear of failure AND fear of success. I was helpless to overcome the stressful effects of those fears until I learned about "Quiet Time."
Quiet Time serves to protect some of our rarest and most important resources: clarity, enlightenment, and peace of mind. Your life successes may very well depend on your ability to somehow manifest Quiet Time so that you can reap the benefit derived from decision making during focused concentration. That's not to say that Quiet Time guarantees better decisions—you still have to do the work—but it creates an environment where good decisions can flourish.
How many times have you asked yourself the proverbial question, "Oh, what to do, what to do?" Only to find yourself in reflection, because of indecision or inaction, years later, saying, "I coulda. I shoulda. I woulda." or "If only I had known then what I know now." Why does this occur? Because every behavioral change in life, including the quest for Quiet Time, is loaded with comfort-level and "I'm just too damn busy" time-management-related challenges. Remember: "If you don't control your time, you don't control your life."
Whether or not it's in your everyday workflow or the flow of your personal life, changing your behavior requires you to make the hard decision of leaving that comfort zone and overcoming the fear of the unknown.
Quiet Time is a process, not just an intuitive knee-jerk reaction for problem disposition. I became so dedicated to the concept I ended up referring to it as the Quiet Time Upside/Downside Process. This Quiet Time Upside/Downside Process has the following Big 5 steps for learning how to know when Quiet Time, as a solution for resolving confusion and for important decision-making purposes, is not just an option but a critical must. Give it a try. You'll gain clarity, be enlightened, and enjoy peace of mind.
The Quiet Time Upside/Downside Process has the following Big 5 steps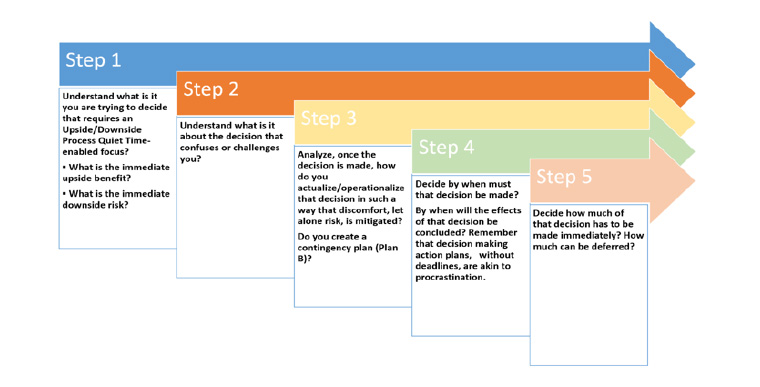 To learn how to improve productivity and efficiency in your workplace, contact us for a free consultation.